Dinner time. Weeknight dinner time.

If you're a mom, or the one that usually handles mealtime in your house, these words can be the thing of nightmares. From picky eaters to recipes with too many steps and ingredients, a fun, fresh, flavorful dinner that everyone will enjoy can seem totally out of reach. Add in the weeknight time crunch and you can feel defeated before you even walk in the front door.

So, what's a busy mom to do? Well, Smithfield has the right idea. Let's Shake it Up!

Join Smithfield in reimagining your favorites using their line of fresh pork. We love a good creamy, comforting pasta dish around here, so I swapped in one of their marinated pork tenderloins in place of our usual chicken breast, and we were off to the races. And on a Tuesday night!

This recipe is super simple, and I even prepped the meat and sauce earlier in the day and had it waiting to toss with the pasta I made when we got home from my daughter's dance class, WITH FRIENDS! That's right. This was so simple and such a crowd pleaser, that we invited friends to join us for dinner on a random Tuesday. I can't tell you how excited our kiddos were, and how nice it was to provide a meal for friends and take one meal time off of their plate; pun intended ;)

Smithfield Marinated Fresh pork comes in loads of flavors and cuts (Roasted Garlic & Herb Center Cut Pork Chops, anyone?) and are 100% fresh pork with no artificial ingredients. Bonus points for being loaded with protein, too!

For our recipe I used the Smithfield Hardwood Smoked Bacon and Cracked Black Pepper Tenderloin. To cut down on prep time I cubed it up, and used it exactly as I would have used chicken in this recipe, but, spoiler alert; it smelled and tasted so much better!
Creamy Pasta with Peas & Peppered Bacon Pork Tenderloin
1 Smithfield Hardwood Smoked Bacon and Cracked Black Pepper Tenderloin (cubed)
1 lb Fettuccine (or any long cut pasta of your choice)
16 oz Light Cream
8 oz Shredded or Shaved Parmesan Cheese
2 cups Frozen Peas
1 tsp Garlic Powder
Salt & Pepper (to taste)
Cube up your tenderloin and brown it in a hot pan. Cook mostly through and then lower the heat and add your light cream. Scrape up any delicious bacon bits as you stir to cover the pork.
Transfer creamy pork to the crock pot if making ahead. Add parmesan cheese and garlic powder, and set to low for 2 hours.
If continuing on the stove-top, continue heating over medium-low heat while stirring occasionally. Once sauce has reduced a bit, add parmesan cheese and garlic powder.
Add frozen peas to sauce prior to beginning pasta prep. Stir well and season sauce to taste with salt and pepper.
Cook pasta according to package directions and reserve 1 cup of cooking water before draining.
Toss pasta with meat and sauce to coat. Thinning with reserved pasta water if needed.
Serve, and enjoy!
We event sent one of our guests home with her very own tenderloin so she can Shake it Up with her family!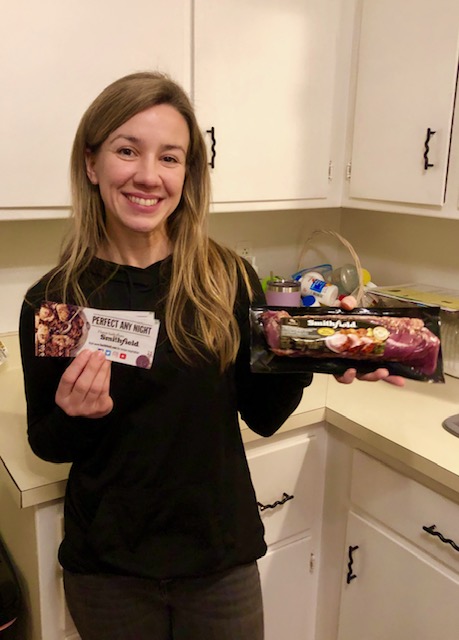 Ready to shake it up at your house?
Get ready to reimagine mealtime and get creative with the Smithfield Fresh Pork "Shake It Up" Contest. Submit a photo of your original dish with a brief description of how to make your recipe with Smithfield Fresh Pork instead of beef or chicken from now through April 26 for a chance to win! Twenty finalists will win a $100 gift card, and one grand prize winner will take home $5,000! For full contest rules and great ideas on how to reimagine mealtime, visit Smithfield.com/ShakeItUp.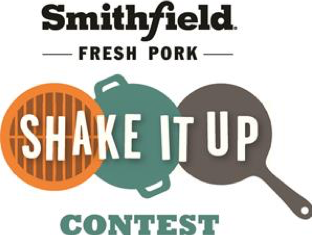 **The writer was compensated for her participation, however all opinions are her own.**