Tips for Managing Disney World Holiday Crowd
Fall & Holiday Magic At Walt Disney World: When it comes to families with small children, the most popular destination I book for them is Walt Disney World. When the best time to go honestly depends on what your most interested in. There are wonderful activities going on for both The Fall (centered around Halloween) and after the second week of November, the Christmas & Holiday season. if you choose either they are both very popular. So here's a few tips to get you through it. Remember if you book with me, I do help as much or as little as you need me to make your trip the most stress-free it can be ;)
Tip #1 – Book FastPass+ Reservations Before You Arrive
As soon as you're reservation window opens (60 days in advance of check-in for resort hotel guests and 30 days in advance for non-resort guests), make sure to book FastPasses for the most popular attractions such as Test Track and Soarin' at Epcot, Seven Dwarfs Mine Train and Frozen Ever After at Epcot, and Avatar Flight of Passage at Disney's Animal Kingdom.
Tip #2 - Have a Plan ... but Be Flexible
On the handful of days when it is more busy that normal, especially Christmas Day and New Year's Eve, it's better to set a few priorities for each family member. Get to the parks early so you can experience any priority attractions you don't have FastPasses for. You're not going to be able to do and see as much when crowds are at their highest. Factor in more time for everything. Be flexible and set realistic expectations for the whole family. Make sure to take some deep breaths, plan some chill time and enjoy the bonding.
Tip #3 - Download The Disney iPhone App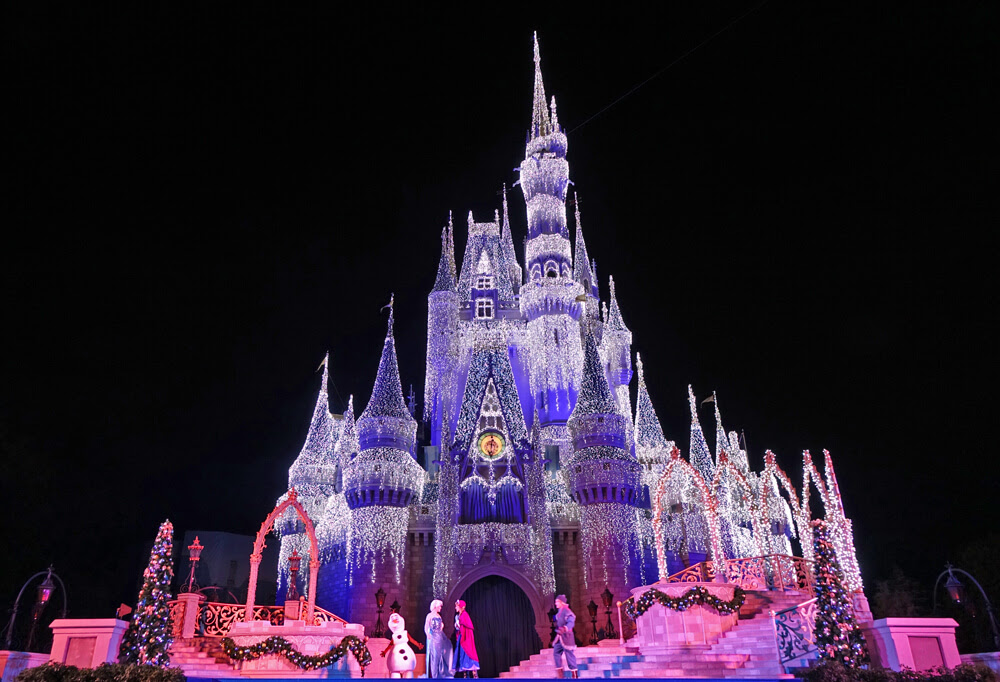 As mentioned above, the Disney Parks App offers pre-set and customizable touring plans. It also has park schedules, show times and wait times in an easy-to-use interface, so it's a great tool for managing Disney World holiday crowds. They have added a new map feature, so you can easily navigate and see your plans and wait times. Best of all, it's FREE. You definitely don't want to leave home without downloading it!
Tip #4 – Arrive Early and Stay Late
The most tested time-saving tip is to arrive early, and this is mostly true with Disney World holiday crowds. Arrive at the Disney World parks about an hour before rope-drop and ride your favorites in the first hour or two before the lines get really long. The exception to this is if a park has morning Extra Magic Hours and you are staying off-site. Pick another park if you can.
This is unavoidable during the busiest days at Magic Kingdom. You can still arrive early so you get in when the park officially opens, but it will be more crowded. If you are staying on-site, congratulations! Make sure to take advantage of Extra Magic Hours, and if you have night owls, take advantage of the late Extra Magic Hours.
During the very busiest times, park hours are extended. This is a great way to get the most out of your visit, especially if you have night owls. Stay as late as you can.
Tip #5 - Avoid Hopping on the Very Busiest Days
Park hopping is not recommended during the very busiest times — crowd level 9s and 10s — especially if you're a first-time visitor. If a park reaches capacity, you won't be allowed re-entry. Plus, moving between parks takes up a lot of time.
Tip #6 – Know the Parade & Show Schedules
The special holiday versions of the parades and stage shows draw large crowds, so save a viewing spot an hour before show time. Yes, we said an hour. Use our app or grab a times guide at the park entrance. A common mistake (and a sure-fire way to miss a parade or show) is to underestimate the time it takes to get from point A to point B.
Tip #7 – Eat Breakfast Before You Arrive, and Bring Snacks and Drinks with You
We like to fuel up in our hotel room or even splurge on the occasional breakfast buffet (Boma at Disney's Animal Kingdom Lodge is our very favorite!) before we head into the parks. If you eat a hearty breakfast, you can go lighter — or even skip — lunch. This helps you beat some of the Disney World holiday crowds during mealtime! You can also bring your own snacks and water bottles into the parks, or even a full picnic lunch. The restaurant crowds can be busier than attraction lines when the parks are packed. A picnic lunch in a less busy spot in the park is a great way to regroup and save money. If your doing a room & tickets package, to most COST EFFECTIVE way to eat for sure is the Disney Dining Plan. That's a whole separate great list we can go over together!
Tip #8 - Dine During Off-Peak Hours
If you're going to eat at the restaurants while you're in the parks, save your line time for the fun stuff by eating during off-peak hours. Restaurants inside the parks get busy around traditional dining times — 11:30 a.m. to 1:30 p.m. for lunch and 5:00 p.m. to 7:00 p.m. for dinner. Consider having those big meals outside of busy times. Most restaurants begin serving lunch at 11:00 a.m. and dinner at 4:00 p.m. Plan your dining times around any shows or parades you want to see. Keep your hunger satisfied with a turkey leg or fresh popcorn.
Tip #9 – Review Your Safety Plan
Crowds + children = sky-rocketing anxiety levels for parents, especially with the Disney World holiday crowds. Review things like "what happens if we get separated" beforehand.
Tip #10 – Don't Pass Up a Restroom Break
If you pass a restroom and the line isn't too long, GO! Even if you think you can wait … GO! You'll thank us later.
Tip #11 – Set a Souvenir Budget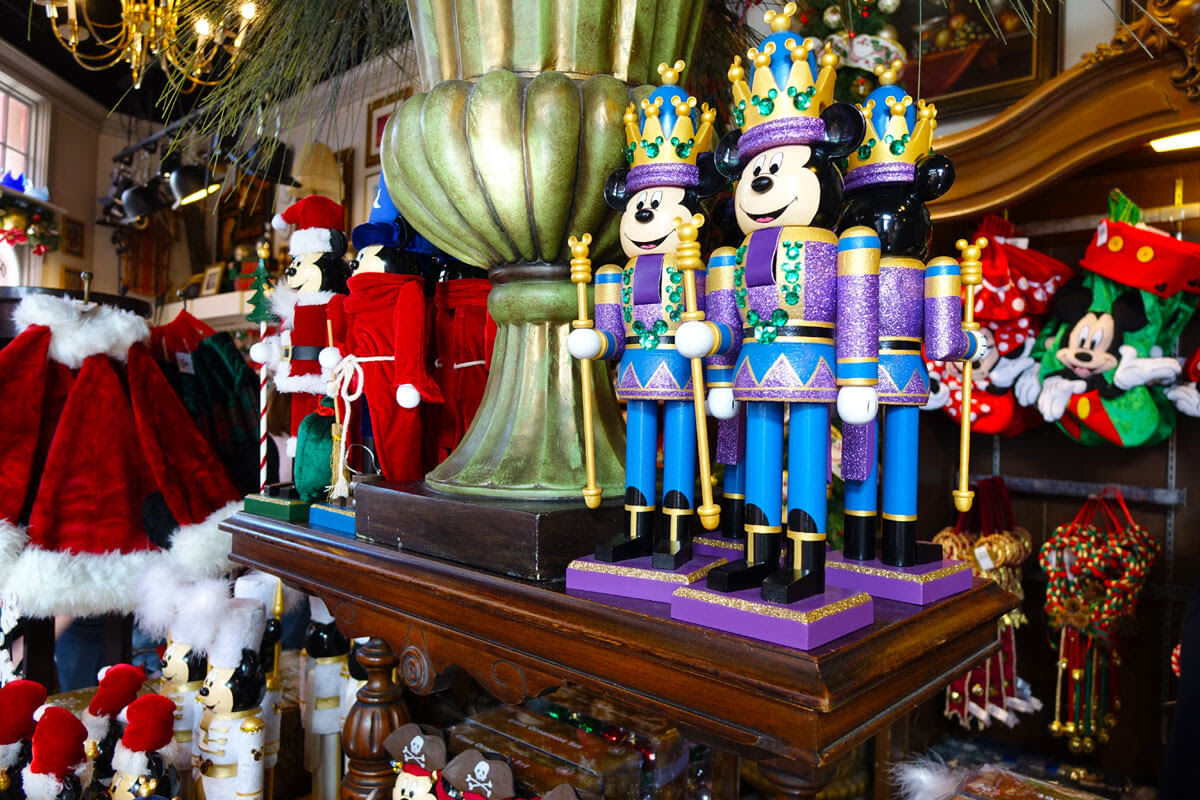 It's easy to get carried away, especially during the holidays. We give a souvenir allowance to spend as they wish. I also surprise them with souvenirs we purchase in advance at a much lower price. And it's not just the kiddos who hate hearing, "No dear, you can't have that." I think I may have the hardest time of any passing up the goodies!
Tip #12 – Take a Break from the Parks
If you or your little ones are completely frazzled by the afternoon, take a break from the parks completely. One alternative is Disney Springs. During the holidays, there are Toy Soldier and Reindeer stilt walkers, live holiday music, dining, shopping … and SANTA! Do keep in mind that Disney Springs can be just as crowded as the parks during the holidays, so if you want to avoid that, go early in the day.
Families also like strolling along Disney's BoardWalk Entertainment District. There are shops, restaurants, a dance hall and carnival-style games.
Another fun thing to do around the holidays is to take a tour of the Disney World resorts. You can take in all of the holidays decorations and Christmas trees decorated to the nines. Disney's Animal Kingdom Lodge and Wilderness Lodge have gargantuan trees that are absolutely amazing inside their already spectacular lobbies. The other deluxes (minus Disney's Polynesian) offer oversized gingerbread displays that are works of art in their own right.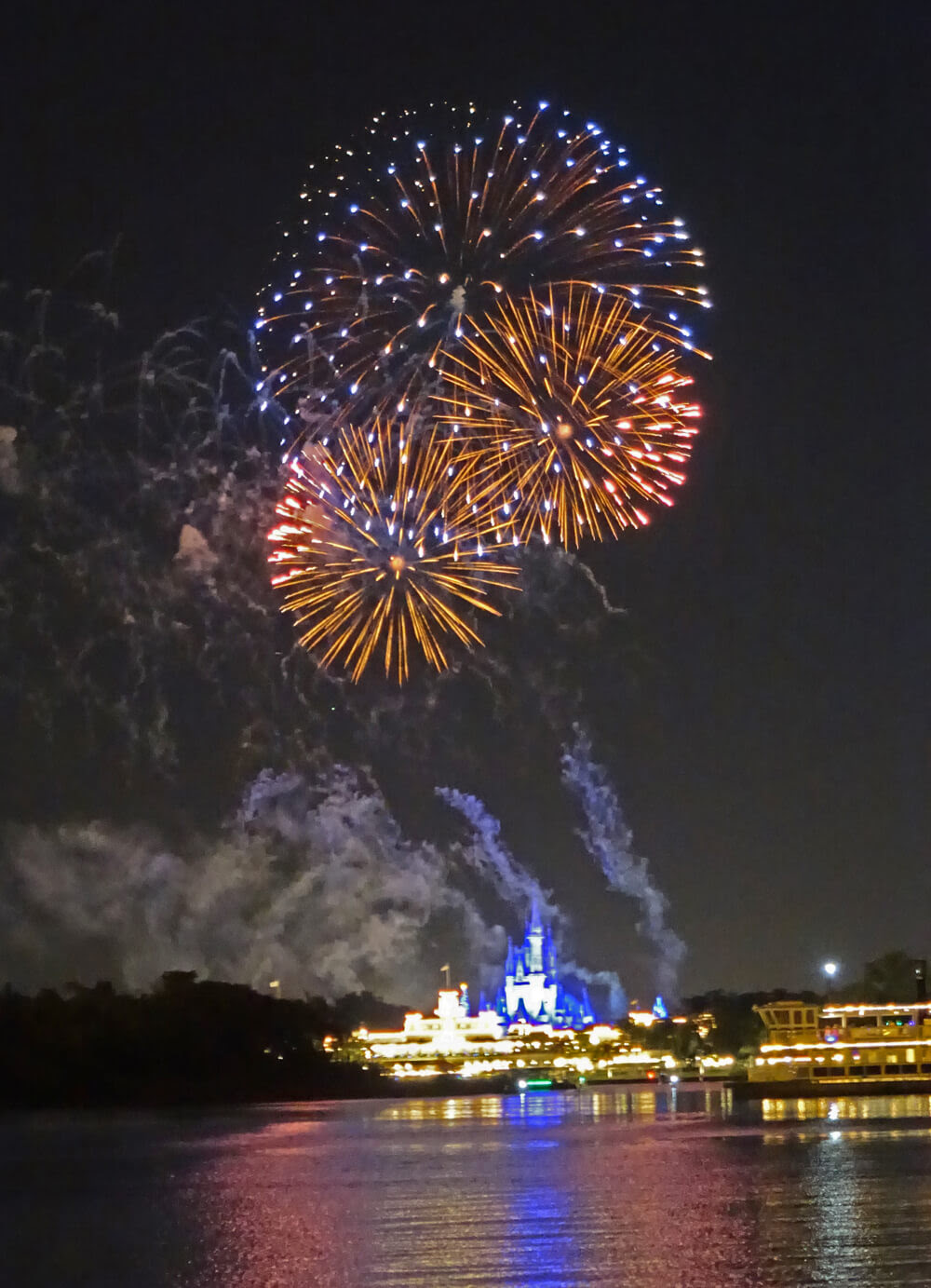 Tip #13 - Watch the Fireworks Outside of the Parks
Along the same lines as the previous tip, consider watching the fireworks from outside the park. By doing this, you can have a less stressful time fighting the Disney World holiday crowds and getting back to your hotel. Many people don't realize it, but you can see Epcot and Magic Kingdom's fireworks from afar. Magic Kingdom fireworks shows are viewable from the beaches at Disney's Fort Wilderness Resort & Campground, Grand Floridian Resort and Disney's Polynesian Resort, and on the boat ride between Magic Kingdom and Fort Wilderness. Additionally, the fireworks can be seen from California Grill at Disney's Contemporary Resort. You need a reservation for this, but it can be for any time in the evening. Just save your receipt, and you can come back up later to watch! I must confess this is my favorite place to watch the fireworks, because you're watching from above. It's one of the only places I know where you really see the whole show. The music is "piped in" at each of these locations.
Epcot's fireworks can be seen from the bridge that connects Disney's BoardWalk Entertainment District and the Yacht & Beach Club.
Tip #14 – Be Flexible
While I love when a great plan comes together, I know when it's OK to alter that plan and change course. Take occasional "temperature" checks of everyone's energy levels and attitudes. If you have to cut something short or go to a different park than you planned, don't sweat it. It's about quality, not quantity. And when you're trying to navigate through those tough Disney World holiday crowds, flexibility is key!
Tip #15 – Pack Your Patience
The Grinch is great as long as he stays in his place at Universal's Islands of Adventure. Don't let him take over your vacation. If you start to feel overwhelmed, just take a deep breath and maybe a five-minute "time-out." It's very important to bounce back from a melt-down …

Hello Everyone! My name is Debbie Beck and I'm a Travel Agent with Amazing Magical Adventures. Each month I would love to give you some great Travel Tips, solid info on Vacation & Cruise deals, and whats the next hottest vacation destinations. For additional information, kindly email me at DebbieBeck@AmazingMagicalAdventures.com or (888) 661-4262 ext. 710. Would love to hear about what you would like me to discuss!
Whew! There you have it — top tips for successfully managing the Disney World holiday crowds. Need help planning a Disney or any other vacation? Remember my services are always free to use so contact me today and lets get planning!